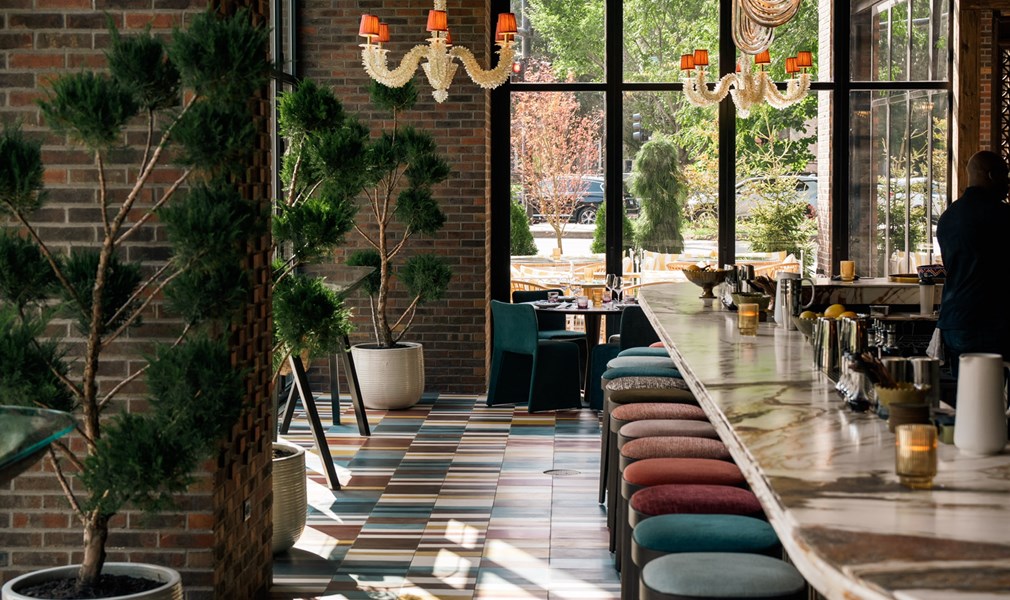 A romantic voyage along the Silk Road, as imagined through the travels of a bon vivant and connoisseur. Culture, travel and style are at the heart of everything we do at Bonhomme. We channel our values into creating singular nomadic experiences for our guests — Porto takes guests to the Atlantic Coast of Spain and Portugal; Bordel is a speakeasy inspired by Paris' Belle Epoque and Pigalle neighborhood; Mama Delia is a pilgrimage across our favorite regions of Spain; and where our Beatnik restaurants are driven by a sense of escapism to destinations in the Middle East, Morocco, Mexico and Peru, Bambola is a journey for the senses, an expedition to the East that weaves through a diverse cultural tapestry stretching from Italy to Xi'an. Designed by Maison Bonhomme, one city, Istanbul — as a historic gateway between East and West, Asia and Europe — is a constant touchstone due to its peerless mix of influences and cultures, textiles and objects, highly decorative details, and a culture of hospitality.
Bambola's rare, imaginative and jaw-droppingly diverse array of artistic elements is a testament to the crossroads of Eastern and Western civilizations. Bambola is filled with Italy's finest textiles, furniture by some of the most exciting designers of the 20th and 21st centuries, and Popham Design's dramatic handmade cement tiles juxtaposed with museum-quality 18th and 19th century antiquities and rare furnishings collected from China, Thailand, Burma, Pakistan and India in collaboration with Doug Van Tress and Chauwarin Tuntisak of The Golden Triangle. Bambola is warmly illuminated with one-of-a-kind chandeliers from the masters of hand-blown glass in Milan and Venice to elevate the standard for restaurant lighting.
To bring Bambola's colorful, collaged vision to life, Maison Bonhomme collaborated closely with an incredible design team starring Luca Lanzetta Group, Popham Design, Molteni&Co, Viabizzuno, Sogni Di Cristallo, Viccarbe and Antoniolupi. Some of the most dazzling design elements of their extravagantly appointed interiors include handmade cement and zellige tiles by Popham Design; a monumental Coppibartali Light by Viabizzuno; a 40' dining table by Foster + Partners; handblown glass chandeliers & lamps by Sogni Di Cristallo; dining chairs and cocktail tables by Rodolfo Dordoni; sofas by Yabu Pushelberg; dining tables and chairs by Patricia Urquiola; handmade "Beni" rugs by Soufiane Zarib; and bathroom vanities and taps by Antoniolupi.