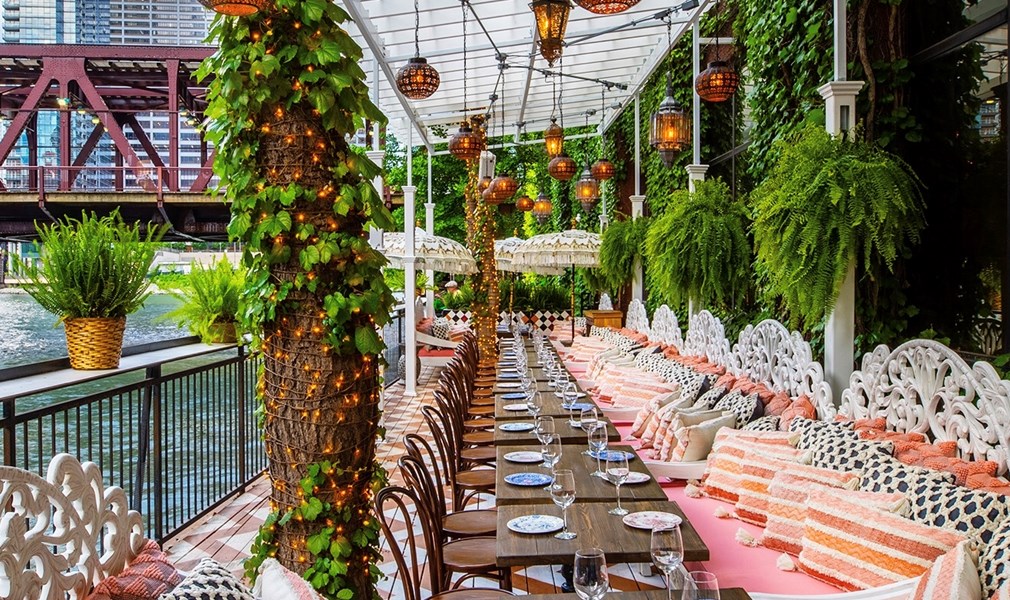 Named after the bohemian freethinkers of the 1950s and '60s, Beatnik On The River offers guests an exotic escape with breathtaking views of the Chicago River and progressive, globetrotting food and cocktails paired with a luxurious Old-World design. Created by Maison Bonhomme, Beatnik On The River captures this worldly spirit by taking guests on a voyage through a series of vignettes that marry the bucolic splendor of a Mediterranean farmhouse with the colorful opulence of Moorish architecture and the tropical lushness of Bali.
Mirroring Beatnik's design-through-storytelling aesthetic, Bonhomme Group's Chef/Partner Marcos Campos takes guests on a journey without borders, playing with flavors and ingredients from the eastern Mediterranean to South America, North Africa and the Middle East. Once presented on the large tables paired with pillow-strewn wood daybeds, the mezze and feast dishes from the open kitchen create an international dinner party experience. Cocktails are inventive and colorful, often finding inspiration in ingredients from the kitchen, creating a harmonious relationship between what's being served on the plates and in the glasses. Exotic garnishes follow a no-waste sensibility utilizing ingredients found in the cocktails they adorn.
The contrasting styles and textures of Beatnik On The River feature antique pieces from around the world and more than 600 living plants throughout the 8,000-square-foot, 200-seat space. Expanding on the definition of what a Chicago restaurant should and could look like, one of our most dazzling design features is an antique jewelry store from Nashville (circa 1913). The entire 20-by-20-foot store — including massive crystal chandeliers, crystal sconces and bird's eye maple interiors — was restored and put back together by a local master carpenter piece by piece and furnished with a 19th century 16-foot French draper's table with eight turned legs, three drawers and a lower shelf down the middle to create a one-of-a-kind private dining room.