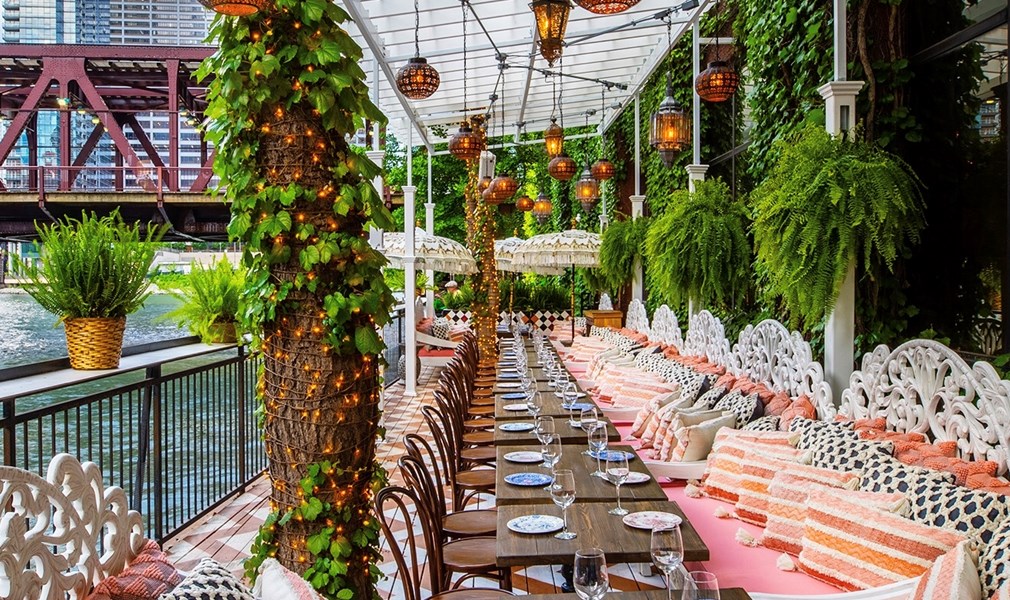 A cocktail bar and restaurant mixing history and modernity, a home for bon vivants and seekers of uncharted experiences.

Named after the bohemian freethinkers of the 1950s and '60s, Beatnik On The River channels the beatnik generation's sense of style, aspiration and rebellion to create an exotic escape with maximalist interiors, lush gardens, ingredient-led cocktails and globally inspired cuisine.

Mirroring our design-through-storytelling whimsy, Executive Chef Marcos Campos takes guests on a journey through the Middle East with flavors from Lebanon, Jordan, Israel and Northern Syria while utilizing local farms in the Midwest.

Beatnik's award-winning beverage team, led by industry vanguard Brian Sturgulewski, finds a fine balance between relaxed and attentive service, with a team that elevates the experience with a culinary approach to craft cocktails. Drinks are savory and fresh, with inventive recipes that follow a no-waste sensibility by utilizing kitchen leftovers or ingredients found in our gardens or the cocktails they adorn. Non-alcoholic drinks have been a mainstay of the beverage program since day one, with spirit-free cocktails that share the same flavorful, colorful and fun originality as our spirit-friendly creations.

Our wine list is an artful amalgamation of wines that are progressive, fun and urge your sense of adventure with every sip. It is a compact attaché that contains the story of winemakers who make wine in lesser-known regions of the Mediterranean and the Americas. The winemakers on our list are avant-garde, rebels, artists, and their creations will help you along your adventure from coast to coast.

Beatnik's aesthetic is driven by a triumphant fusion of three destinations close to our heart: Morocco for its opulent combinations of color and artistic passion, the Mediterranean countryside for its bucolic splendor and Italy for a healthy dose of polish and panache to sex it all up.

Concepted and designed by Maison Bonhomme, the contrasting styles and textures of Beatnik On The River feature antique pieces from around the world and more than 600 living plants throughout the 8,000-square-foot, 200-seat space. Expanding on the definition of what a Chicago restaurant should and could look like, one of our most dazzling design features is an antique jewelry store from Nashville (circa 1913). The entire 20-by-20-foot store — including massive crystal chandeliers, crystal sconces and bird's eye maple interiors — was restored and put back together by a local master carpenter piece by piece and furnished with a 19th century 16-foot French draper's table with eight turned legs, three drawers and a lower shelf down the middle to create a one-of-a-kind private dining room.