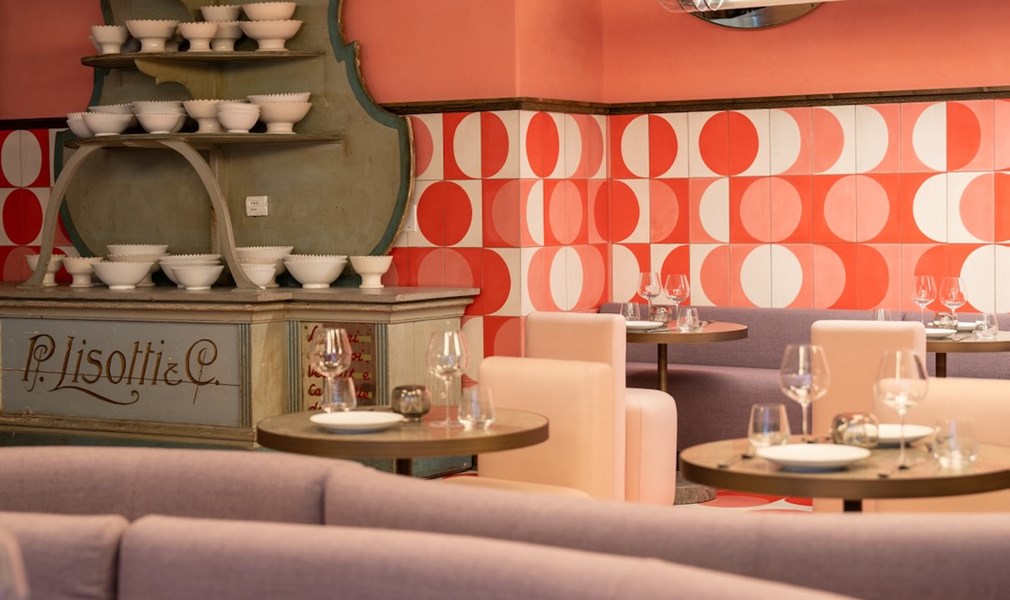 A wine bar and modern bistro that channels the style of Mondrian, YSL, Godard and Bauhaus, using bold colors and geometric shapes to express a postmodern aesthetic sensibility.

Stepping inside Coquette you are instantly transported to a pink, Parisian dream where romance and the liberating energy of the French New Wave meet audacious natural wines and cooking done exclusively on charcoal and wood by Bonhomme's award-winning culinary team. Vibrant interiors fashioned with curvaceous furnishings wrapped in soft textures and a palette of pinks and lavenders offer a distinct vision for what a modern French bistro can be.

Coquette offers an elevated setting where 40 guests can enjoy a Parisian party filled with French flavors, bubbles, spirits and music. Interaction is part of the experience at Coquette — especially at our "Kitchen Counter" – where guests are invited behind the bar for complimentary pours and to select albums from our record collection for the evening's musical stylings.

Coquette is a French experience that reflects the food of France today unburdened by the shadows of its past by elevating quintessential recipes and iconic dishes. Led by Bonhomme Group's Michelin-starred Executive Chef Marcos Campos, Executive Pastry Chef Shannah Primiano and Culinary Director Erwin Mallet, Coquette expresses their vision for a modern bistro. Though Coquette's cuisine may be "nouvelle", it's equipment is undeniably primitive, with all cooking done by live-fire ovens and mangal grills. Coquette also features a dry aging system that blends state-of-the-art technology with methods that go back thousands of years to unleash the flavor and tenderness of the beef, duck and fish prepared in our kitchen.

Coquette's wine list is a playful celebration of France's most under-appreciated regions and boldest winemakers. We celebrate "real" wine by showcasing the historical birthplace and heart of minimal intervention winemaking — Beaujolais. We also feature an extra-intentional sampling of Champagnes by grower producers, all who dare to make exquisite wine on their own terms.

Our award-winning beverage team, led by industry vanguard Brian Sturgulewski, is built around seasonal produce, bridging the similarities found between what is harvested both in France and in the Midwest. The old idea of the spirit as the "center" or "focus" of beverages takes a backseat to building a menu around seasonally available ingredients and ingredients preserved through pickling, infusion or fermentation. Coquette's spirit offerings are, predictably, very French.

To bring Coquette's stunning vision to life, Maison Bonhomme collaborated closely with a dynamic design team starring Luca Lanzetta Group, Popham Design, Molteni&Co, Viabizzuno, Sogni Di Cristallo, Viccarbe and Antoniolupi. Some of the most dazzling design elements of their seductive interiors include handmade cement and zellige tiles by Popham Design; René bistro tables by Piero Lissoni for Salvatori; handblown glass chandeliers by Sogni Di Cristallo; Season dining chairs and sofas by Piero Lissoni for Viccarbe; kitchen and bar counters created with 3" slabs of sustainably harvested bubinga wood from Gabon; custom steel and glass partitions inspired by the work of Mondrian; a 100-year-old Italian six-tier display shelf from the Lisotti Distilling Company in Modena; and bathroom vanities and taps by Antoniolupi.