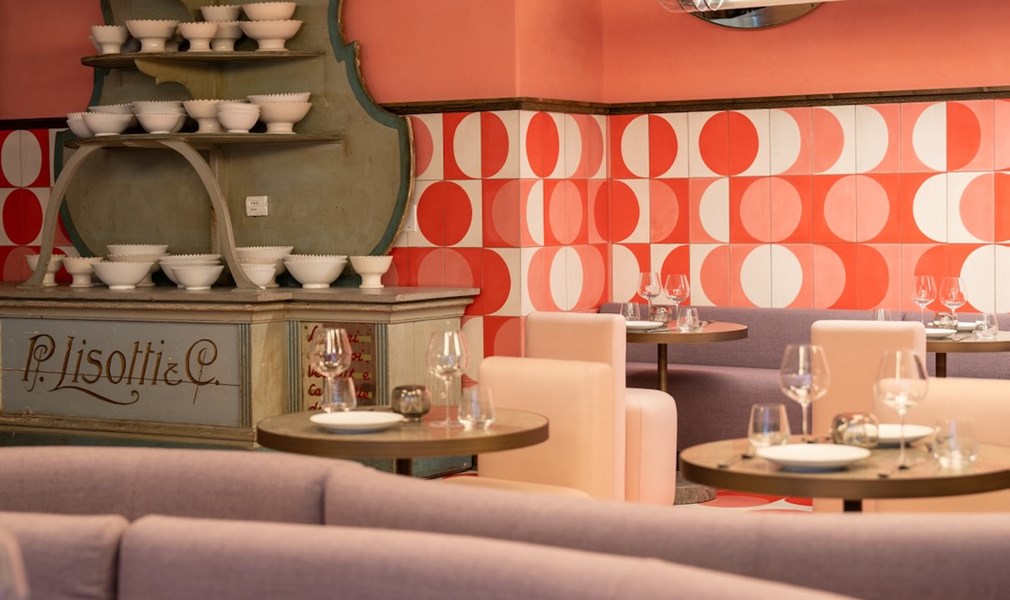 To bring Coquette's stunning vision to life, Maison Bonhomme collaborated closely with an incredible design team starring Luca Lanzetta Group, Popham Design, Molteni&Co, Viabizzuno, Sogni Di Cristallo, Viccarbe and Antoniolupi. Some of the most dazzling design elements of their seductive interiors include handmade cement and zellige tiles by Popham Design; a monumental Tisoffio Light by Viabizzuno; René bistro tables by Piero Lissoni and Salvatori; handblown glass chandeliers by Sogni Di Cristallo; Season dining chairs and sofas by Piero Lissoni and Viccarbe; kitchen and bar counters created by repurposing ten slabs of sustainably harvested bubinga wood from Gabon; custom steel and glass entrance vestibule inspired by the work of Mondrian; an incredible Italian six-tier display shelf from the Lisotti Distilling Company in Modena, Italy circa 1920, and bathroom vanities and taps by Antoniolupi.
Coquette reflects Bonhomme Group's Culinary Director Erwin Mallet's passion for the food his mother and grandmother would make in Limoges, their home in central France, as well as his professional culinary journey in the kitchens of some of his native country's best restaurants and beyond. Embracing his unique perspective, Bonhomme Group's Executive Chef Marcos Campos and Executive Pastry Chef Shannah Primiano harmonize with Chef Erwin to interpret traditional French recipes and techniques as only they can, applying subtle original touches to iconic dishes, reflecting the food of France today, unburdened by the shadows of its past.
Research for Coquette began organically in the kitchen of Michelin-starred Porto, where Chefs Marcos, Erwin and Shannah have worked side-by-side for almost three years. It was inevitable that they would focus their considerable talents and kindred spirit on French cuisine. Together, they began to apply Porto's live-fire cooking techniques to French cuisine, playing with levels of smoke to whole ingredients as well as iconic sauces, purées and stocks. Those experiments became Coquette, a 40-seat French experience that utilizes a charcoal-fueled oven and mangal as well as a stone hearth oven fueled by seasonal wood to carry additional layers of flavor and aromas to ingredients while still respecting their intrinsic qualities. Additionally, Coquette uses a cutting-edge dry aging system, which blends Old World methods with state-of-the-art technology that naturally intensifies flavors and increases tenderness, to showcase the best versions of meat and fish on its menu.